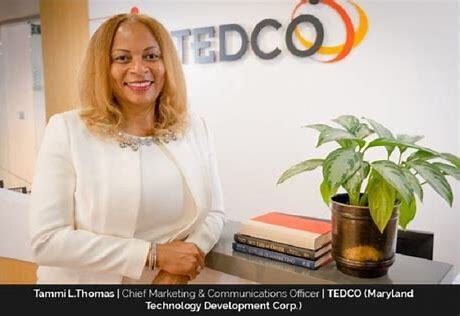 (BBR) Tammi L. Thomas is a remarkable woman who has been recognized for her exceptional contributions in various fields. She has been named among The Daily Record's Top 100 Women, recognized as one of 2022's most influential businesswomen, and has been featured in TEDCO's Leading Edge podcast series. In this article, we will take a closer look at Tammi Thomas's achievements and how she has made a mark for others.
As the Vice President of Marketing & Communications at TEDCO, Tammi Thomas has played a vital role in promoting the organization's mission to facilitate the growth of technology-based startups in Maryland. Her expertise in marketing and communications has been instrumental in attracting investors, entrepreneurs, and innovators to TEDCO's ecosystem. In a recent interview with MDBIZNews, Tammi highlighted the importance of storytelling in marketing and how it can help entrepreneurs convey their message effectively.
Tammi's achievements extend beyond her role at TEDCO. She has been recognized as one of 2022's most influential businesswomen by The Daily Record, an honor that celebrates Maryland's female leaders who are making a significant impact in their industries. Tammi's leadership and contributions to the business community have been acknowledged through this prestigious recognition.
Tammi has also been featured in TEDCO's Leading Edge podcast series, where she shares her insights and experiences with the startup community. In these podcasts, Tammi talks about various aspects of entrepreneurship, such as branding, marketing, and storytelling, and how they can help startups succeed. She also shares her views on the importance of diversity and inclusion in the startup ecosystem and how TEDCO is working towards creating a more inclusive environment.
In addition to her professional achievements, Tammi is also a community leader and a mentor. She is actively involved in various community organizations, including the Women's Business Center of Maryland, and is a mentor to many young professionals. Tammi's dedication to giving back to the community and supporting the next generation of entrepreneurs is truly inspiring.
In conclusion, Tammi L. Thomas is a trailblazing leader who has made a mark in various fields. Her contributions to the startup ecosystem in Maryland have been significant, and her leadership and dedication to promoting diversity and inclusion have been recognized by many. Tammi's insights and experiences can inspire many young entrepreneurs, and her commitment to giving back to the community serves as an excellent example of leadership in action.