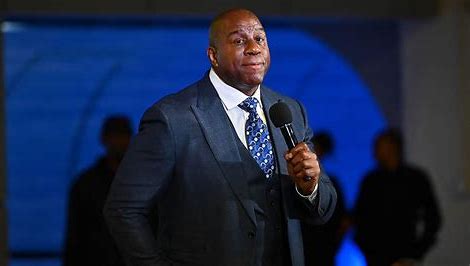 (BBR) The business empire of Los Angeles Lakers legend Magic Johnson has just grown by leaps and bounds.
It already has included a chain of movie theaters, restaurants, a slew of Starbucks locations and a stake in the Los Angeles Dodgers. But now, Johnson is officially also a part-owner of the NFL's Washington Commanders.
He wasted no time in distancing his new regime, which includes billionaire investor Josh Harris, from the old regime headed by the controversial Daniel Snyder. He let it be known that team employees will be treated with respect and that they'll be safe at work, two things that weren't true under Snyder.
In an interview with Craig Melvin of NBC's "Today," Johnson choked up while talking about setting a positive example for the African-American community.
 "I would look at it, for sure. Listen, breaking these barriers, just going through these doors, is important to me. As a proud Black man — you've got me choking up now," he said, fighting back tears.
"This is a great opportunity. I don't know why God blessed me with these opportunities, but I'm going to excel, not only for myself, but my family, but for all African Americans, making sure we can see (ourselves) in these seats. And I want people to know that we can do the job."
Through his business empire, the five-time NBA champion has created plenty of opportunities for Black individuals, especially those who are from disadvantaged backgrounds. Through it all, he has been a huge inspiration and a beacon of positivity and hope.