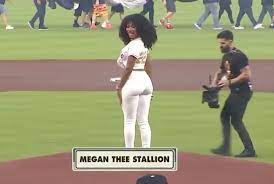 (BBR)  Rapper Megan Thee Stallion threw out the ceremonial first pitch for the defending champion Houston Astros on Friday night, adding her star power to the pre-game festivities at Minute Maid Park.
The Houston native, who is known for her hit songs and empowering lyrics, stepped onto the pitcher's mound wearing a custom Astros jersey with her name and number, and was met with cheers and applause from the crowd.
With a confident smile on her face, Megan wound up and delivered a pitch that sailed over the plate, drawing more cheers from the crowd and high-fives from Astros players.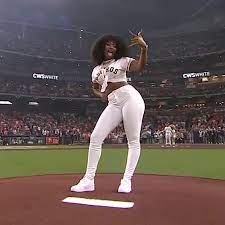 Video of Meg throwing out the first pitch 
Megan later took to social media to share her excitement about the experience, posting a video of the pitch and writing, "I threw out the first pitch for the Astros tonight and it was a Hottie home run!"
The Astros also shared a video of the pitch on their official Twitter account, writing, "Megan Thee Stallion bringing the heat!"
Megan's appearance at the game was just one of many high-profile events she has participated in recently, as her star continues to rise in the music industry. She recently released her highly-anticipated album, "Good News," and has been making waves with her collaborations with other artists, including Cardi B and Doja Cat.
Her appearance at the Astros game also served as a reminder of her love for her hometown and the support she has for local sports teams. The Astros, who are currently atop the American League West standings, will surely appreciate the extra boost of energy and excitement that Megan brought to the ballpark.
Overall, Megan Thee Stallion's first pitch at the Astros game was a fun and memorable moment for fans and players alike. Her star power and confident delivery added to the excitement of the game, and showcased her love for her hometown and its teams.